Exciting Article Updates! April 13th, 2020
*Azure News Update: Azure Files AD Integration for SMB access using Active Directory Domain's managed by customers, is now available in preview.
We have updated our our Azure MyWorkDrive Image in the marketplace to allow it to easily join an existing Windows Active Directory Server that will further simplify the process!   View our complete Setup Article here on how to integrate Azure File Shares with MyWorkDrive.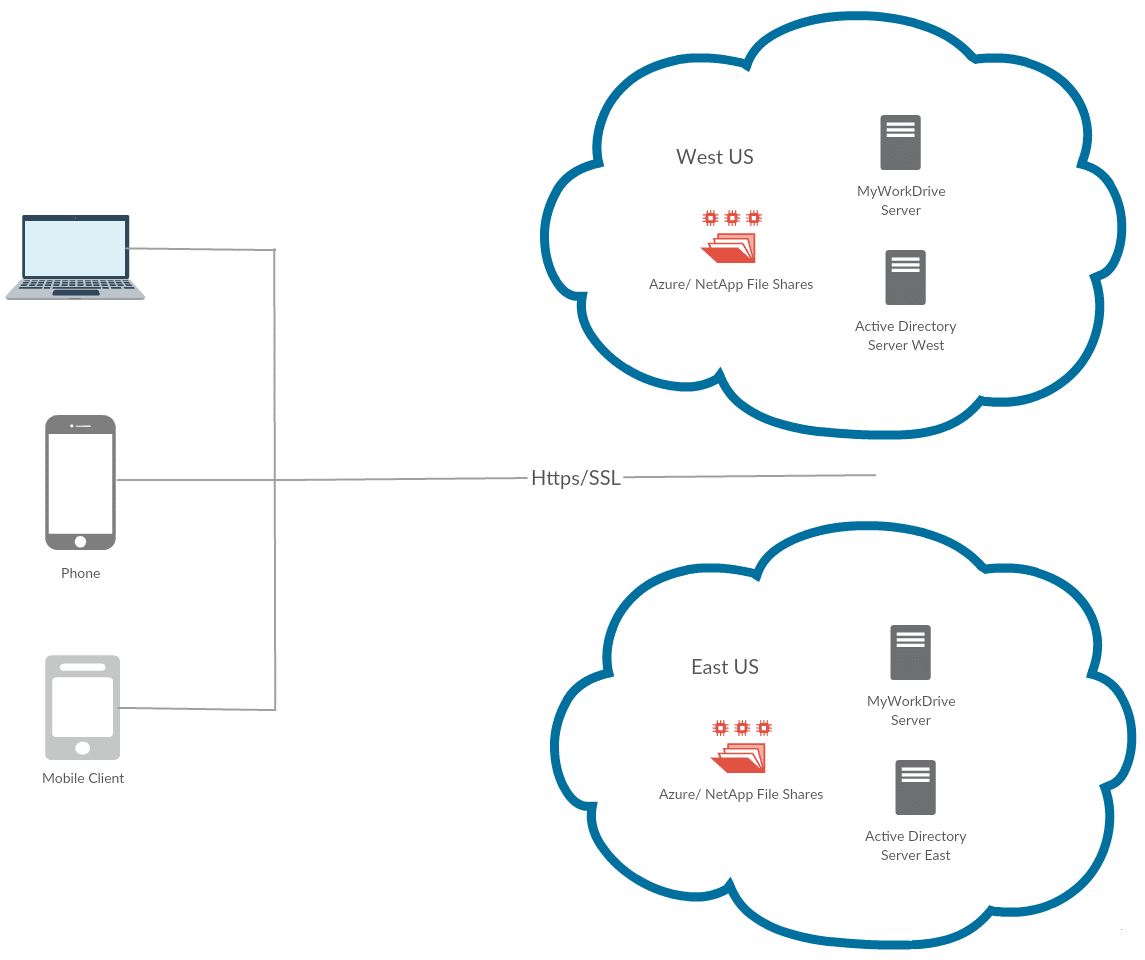 Looking to migrate Windows File Shares to cloud file storage? You're not alone!
Businesses of all sizes have been searching for the right mix of technologies that will allow them to migrate their on-premise file shares to cloud file storage.
For small businesses and startups, services like Dropbox, Box, Egnyte and SharePoint are a good alternative. 
For larger businesses, governments, higher education and compliance restricted firms, migrating away from private cloud file storage under their own control requires significant planning. 
Larger companies are concerned about the loss of file ownership, data sovereignty, compliance, ongoing costs and navigating costly and complex migrations.
These businesses are considering migrating their file shares to cloud file storage so that they can outsource the management of servers and infrastructure while still desiring to maintain control of their company files and sidestepping the software vendor lock-in associated with EFSS.
Until now they could meet some of these requirements with costly Enterprise File Sync and Share (EFSS) systems on-premise however they were still stuck managing complex migrations, having new databases to manage and license and re-inventing long term backup and data retention plans.
These businesses have been searching for a simple alternative cloud file storage sharing option that provides the same benefits of traditional mapped drives, fast local speeds and secure file remote access. 
The technologies to enable cloud-based file server file shares are now converging with all the components needed to make this dream a reality! Read more
https://www.myworkdrive.com/wp-content/uploads/2018/12/1d-250x59.png
0
0
Dan Gordon
https://www.myworkdrive.com/wp-content/uploads/2018/12/1d-250x59.png
Dan Gordon
2020-01-13 06:00:27
2020-04-24 14:02:15
Migrate On-Premise Files Shares to Azure Cloud File Storage