WINDOWS FILE SHARING
Public & Private File Sharing with the Speed and Security of Traditional File Servers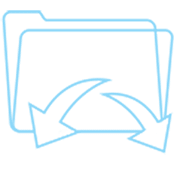 Traditionally Windows file sharing has been limited to creating shares on local servers, setting permissions and accessing files over local area networks or VPN's.  Windows File Sharing has many benefits including speed of access, simplicity, unlimited storage capacities, integration with active directory and the ability to deploy mapped drives to 1000's of machines instantly using login scripts or group policies.  For this reason the majority of enterprises continue to maintain significant investments in a Windows file sharing infrastructure including servers, high speed networks, Storage Area Networks and Network Storage devices.  These devices provide the reliability, speed and redundancy enterprises demand for  a highly efficient workforce.
Backup and retention is also of great concern to protect from data loss, corruption and to comply with legal requirements.  Typically most businesses must retain up to 7 years of backups that can easily be restored in the future.  For this reason businesses are reluctant to store their files in database driven file systems either locally or in the cloud including Document Management Systems (DMS) and Enterprise File Sync & Share (EFSS) systems.  With traditional NTFS based Windows file sharing archive backups can be stored on backup hard disks making restoration as simple as copying over files – even several years later.  With DMS or EFSS systems the restoration of archive data is significantly more complex. Restoration requires backing up and restoring entire operating systems, reinstallation of SQL databases in use at that time (which may no longer be available), restoring backups of SQL data and reintegration of servers back into active directory. Cloud based EFSS or systems require 3rd party backup subscriptions which must be maintained indefinitely to prevent loss and removal of backup file data by the cloud vendor.
For these reasons businesses of all types are turning to MyWorkDrive to add cloud functionality while retaining the speed and simplicity of traditional Windows file sharing using our hybrid cloud add-on.  With MyWorkDrive IT departments simply setup MyWorkDrive Windows server software, point to existing Windows file shares and in minutes cloud functionality is made available to users including:
Web File Manager browser access to file shares
Office Online document editing ( with files stored on the local file servers )
Mapped Drive from Anywhere without VPN
Public and Private file sharing
Two Factor Security (2FA)
Single Sign On
Mobile Access
Traditional Windows File Sharing at gigabit speed continues to be available in parallel to MyWorkDrive.  Users simply leverage file sharing using traditional methods on the local area network and use MyWorkDrive when cloud functionality or remote access is needed. For IT Departments, No SQL databases need to be maintained or licensed making file backup and restoration simple – NTFS based file shares remain in place.
Sharing and collaborating on files to users outside of the company is essential to a productive workforce.  With MyWorkDrive internal files can be made public effortlessly with our OneDrive integration.   By leveraging our OneDrive integration businesses can protect sensitive data by transferring public files as needed to OneDrive without opening up internal systems to outside parties or enabling insecure file sharing links that can expose company servers to data breaches.
With MyWorkDrive businesses of all types are able to add cloud capabilities to Windows file shares while protecting and controlling their data to future proof their file server infrastructure investments.