WebDAV Server Windows Alternatives.
Overzicht WebDAV-server
The WebDAV protocol is a popular option for accessing files remotely as it runs over the http/https protocols which are accessible from any location. Web Distributed Authoring and Versioning (WebDAV) is an extension of the HTTP protocol to allow end users and 3rd party applications to view and edit files — both personal and through company shares—located in the cloud.
WebDAV is a protocol extension of HTTP that allows collaboration and editing content directly using HTTP as define in RFC 2518, RFC 4918. WebDAV began in 1996 as part of the World Wide Web Consortium discussion on distributed authoring.
For companies that wish to support WebDAV on both the server and client machines, they should be aware there are some important support precautions. The built-in WebDAV client on Windows by default limits file sizes to 30 MB, continually prompts for password on opening of every document and does not reconnect automatically on restart. MyWorkDrive has compiled a series of ondersteunende artikelen op de verschillende Windows WebDAV-client support options. Should firms wish to support WebDAV, MyWorkDrive Server utilizes our own Microsoft WebDAV server engine which follows all WebDAV standards to ensure higher compatibility and security and overcomes these server issues: The built-in Windows IIS WebDAV implementation does not support large file size transfers, enumeration of folders and group shares, Special File Name Characters, nor does it support several enhancements to the WebDAV standard or two factor security.
WebDAV-beperkingen
Historisch gezien hadden IT-afdelingen de volgende problemen bij het implementeren van een WebDAV-server in hun lokale of cloudinfrastructuur:
Beveiligingsproblemen
Poor Client Support on Windows & Mac's
Gebrek aan integratie in Windows Active Directory en NTFS-machtigingen op bestandsshares
Handmatige inrichtingsvereisten voor het toevoegen van nieuwe gebruikers/groepen of homedrives
Bestandsnamen en speciale tekens worden niet herkend
Beperkingen bestandsgrootte
Lage snelheden
MyWorkDrive solves these issues by offering an WebDAV alternative through our easy to install and configure Windows Server Add-On Software. MyWorkDrive allows companies to convert an ordinary Windows-bestandsserver to a WebDAV Server. MyWorkDrive offers the same benefits of WebDAV without the security risks or support challenges. Since our apps do not utilize WebDAV, companies may disable WebDAV Server completely and only support WebDAV connections as needed – depending on business and security requirements.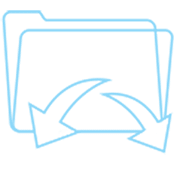 MyWorkDrive Windows WebDAV Server Alternatief
Beveiligde webbrowserportal voor externe toegang tot bestanden

Samenwerken en documenten bewerken in Microsoft Office Online

Toegewezen stations met MyWorkDrive Mapped Drive Client

Twee-factorenbeveiliging (2FA)

Optionele Azure AD/Okta/SAML/ADFS-verificatie

Optionele WebDAV-clientondersteuning

HTTPS SSL-standaard firewallpoorten maken overal toegang mogelijk

Mobile iPhone, iPad & Android Apps
Welke methode bedrijven ook kiezen - WebDAV- of MyWorkDrive-native apps en onze Web File Manager, MyWorkDrive maakt externe bestandstoegang sneller, gemakkelijker en veiliger.
MyWorkDrive is geschreven met de Enterprise Windows-systeembeheerder in gedachten - alles is op Windows gebaseerd, maakt gebruik van IIS Web Server en is geschreven in .net. Onze oplossing is ontworpen en ontwikkeld door het in San Francisco gevestigde Wanpath LLC, opgericht door: Intivix.com ingenieurs met meer dan 25 jaar ervaring in real-world Windows File Server Remote Access en SSL VPN-systeembeheer.