WebDAV Server Windows Alternatives.
Descripción general del servidor WebDAV
The WebDAV protocol is a popular option for accessing files remotely as it runs over the http/https protocols which are accessible from any location. Web Distributed Authoring and Versioning (WebDAV) is an extension of the HTTP protocol to allow end users and 3rd party applications to view and edit files — both personal and through company shares—located in the cloud.
WebDAV is a protocol extension of HTTP that allows collaboration and editing content directly using HTTP as define in RFC 2518, RFC 4918. WebDAV began in 1996 as part of the World Wide Web Consortium discussion on distributed authoring.
For companies that wish to support WebDAV on both the server and client machines, they should be aware there are some important support precautions. The built-in WebDAV client on Windows by default limits file sizes to 30 MB, continually prompts for password on opening of every document and does not reconnect automatically on restart. MyWorkDrive has compiled a series of artículos de apoyo sobre los diversos Cliente WebDAV de Windows support options. Should firms wish to support WebDAV, MyWorkDrive Server utilizes our own Microsoft WebDAV server engine which follows all WebDAV standards to ensure higher compatibility and security and overcomes these server issues: The built-in Windows IIS WebDAV implementation does not support large file size transfers, enumeration of folders and group shares, Special File Name Characters, nor does it support several enhancements to the WebDAV standard or two factor security.
Limitaciones de WebDAV
Históricamente, los departamentos de TI han tenido los siguientes problemas al intentar implementar un servidor WebDAV en su infraestructura local o en la nube:
Preocupaciones de seguridad
Poor Client Support on Windows & Mac's
Falta de integración en Windows Active Directory y permisos NTFS en recursos compartidos de archivos
Requisitos de aprovisionamiento manual para agregar nuevos usuarios/grupos o unidades domésticas
Nombres de archivo y caracteres especiales no reconocidos
Limitaciones de tamaño de archivo
Velocidades lentas
MyWorkDrive solves these issues by offering an WebDAV alternative through our easy to install and configure Windows Server Add-On Software. MyWorkDrive allows companies to convert an ordinary Servidor de archivos de Windows to a WebDAV Server. MyWorkDrive offers the same benefits of WebDAV without the security risks or support challenges. Since our apps do not utilize WebDAV, companies may disable WebDAV Server completely and only support WebDAV connections as needed – depending on business and security requirements.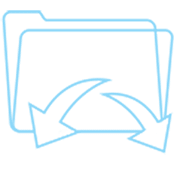 Alternativa al servidor MyWorkDrive Windows WebDAV
Portal de navegador web seguro para acceso remoto a archivos

Colaborar y editar documentos en Microsoft Office Online

Unidades asignadas mediante MyWorkDrive Mapped Drive Client

Seguridad de dos factores (2FA)

Autenticación opcional de Azure AD/Okta/SAML/ADFS

Soporte de cliente WebDAV opcional

Los puertos de firewall estándar HTTPS SSL permiten el acceso desde cualquier lugar

Mobile iPhone, iPad & Android Apps
Independientemente de los métodos que elijan las empresas: aplicaciones nativas WebDAV o MyWorkDrive y nuestro administrador de archivos web, MyWorkDrive hace que el acceso remoto a archivos sea más rápido, más fácil y más seguro.
MyWorkDrive está escrito pensando en el administrador de sistemas Enterprise Windows: todo está basado en Windows, utiliza el servidor web IIS y está escrito en .net. Nuestra solución está diseñada y diseñada por Wanpath LLC, con sede en San Francisco, fundada por Intivix.com ingenieros con más de 25 años de experiencia en administración de sistemas SSL VPN y acceso remoto al servidor de archivos de Windows en el mundo real.